Welcome to our pediatric specialty practice, where cutting edge dentistry meets a modern and magical experience for our youngest patients!
Meet Dr. Pamela Vainer, our in-network pediatric dentist at LUMIA DENTAL: " As a pediatric dentist, I approach each child's visit with patience, compassion and attention to detail. It's important to build trust with the child and the parents, allowing us to build a strong foundation for their life long oral healthcare."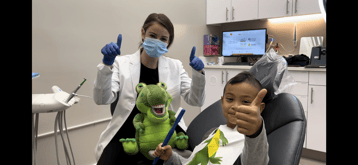 A dental visit should be fun, especially for the youngest patients. A warm, welcoming environment and staff are key to helping children have a positive view of the dentist, getting their teeth cleaned, and keeping them that way for the rest of their lives.
Many dentists recommend a first pediatric dental visit within six months of the appearance of the first tooth, which can occur as early as four months of age. In any case, the first visit to the pediatric dentist should be scheduled before their second birthday.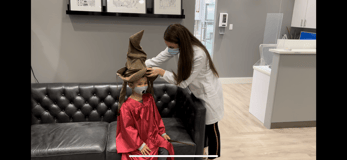 Making children comfortable at the dental office takes more than just cute decoration.

At LUMIA DENTAL we have created unique and fun experiences for our young patients. Your child can choose their preferred theme for the visit like Harry Potter, princess or super hero and our pediatric team will transform a dreaded dental visit into a magical and engaging experience for kids.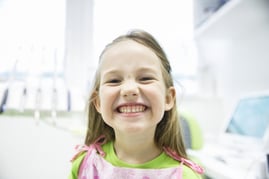 Many team members and doctors at LUMIA DENTAL have children of their own, so we fully understand pediatric patients and their parents.
Not every cavity needs to be treated with a drill and where possible we use x-ray free cavity detection. Those are just some of the examples that show how our pediatric practice at LUMIA DENTAL provides cutting-edge dentistry and a modern patient experience for kids.
We also serve as an educational resource for parents. Parents should visually check their children's teeth periodically and make sure to brush their teeth for them (until they're seven years old!) twice a day: after breakfast and after dinner. Visit our pediatric dental blog for more tips for oral healthcare for your child and gentle treatment options for your child at the LUMIA DENTAL pediatric practice.