When a cavity is "incipient", or just on the outside surface of the tooth, dentists have traditionally chosen to recommend good oral hygiene and diet, and "watch" it for now. They check it every 6-12 months and wait until it becomes deeper. This "watch and wait" method works, but for how long?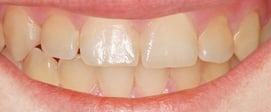 Is it really prudent to wait until a cavity inevitably becomes deeper to need a deep filling (which can result in sensitivity) or even a root canal? Incipient cavities don't have symptoms; you can't just wait until a tooth feels sensitive or even hurts, because these symptoms usually indicate that the cavity is very deep. The aggressive approach is to treat when it's really small, but this requires unnecessary removal of healthy tooth structure to treat such a small cavity?
An alternative treatment has become available in the U.S. since 2009 and has been universally researched. It's called "Icon", and it's manufactured from only one company.
Icon treatment is done painlessly, without the use of needles or drills, in one easy sitting. The dentist can also avoid unnecessary removal of healthy tooth structure. Results are almost immediate - clinically and radiographically. Catching cavities at their early stage prolongs the longevity of a tooth.
This is modern dentistry at its finest. Make sure your dentist has these options available instead of reaching for the drill or ignoring the problem altogether!