Surgery and Implants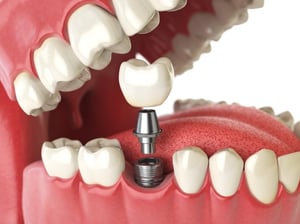 Why does a person need dental surgery and implant?
It is first important to understand what an implant is. A dental implant includes a titanium post that will act as the root of a tooth. It is painlessly inserted through the gumline and attached to the jawbone. Your new "root" will now be the mount for a replacement tooth or bridge. As long as you have healthy gums, implants are great alternatives to dentures as they don't come loose.
Dental surgery and implants are often dreaded by patients. Our experienced dental surgeons understand the anxiety you may be going through. At Lumia Dental, our goal is to make you as comfortable as possible. To get started, we must perform x-rays and assess your condition.
Dental Implant Assessment
Consultation with dentist

X-rays

Assessment of gums

Jawbone checked for thickness, strength, and sinus and nerve proximity

Determine if bone graft or sinus lift is needed

Models made of teeth and mouth

Treatment plan created

Possible meeting with a specialist, such as an oral and maxillofacial surgeon or a periodontist
Dental Implant Process
Every procedure is different, but below are general elements:
Only local anesthesia will most likely be necessary

If there is a damaged tooth, it will be removed

In some cases, additional grafting of bone may be necessary

Depending on jawbone process, it must heal before your oral surgeon can implant the metal post

Healing process begins and follow up visits are scheduled

An extension of the implant metal post called the abutment is added, then the new artificial tooth or crown

The entire process from start to finish can be painless!