Discoloration of enamel occurs with time – teeth are exposed to staining agents such as coffee, tea, red wine, blueberries, artificial food coloring, and sometimes even tobacco, and they build up over time. Even the removal of braces can leave patches of odd colors.
There are many ways to whiten your teeth. They all work to different degrees and with different downsides. At LUMIA DENTAL, we always research and implement the latest, most effective technology in dentistry, including whitening techniques that are safe and effective.
Check out the stunning results from the most effective and long-lasting whitening system available: KöR whitening.
Convenient In-Office Whitening - GloPRO

Get dramatically whiter teeth in under 16-minutes treatment time and in style and comfort - with minimal or no pain! The GloPRO whitening mouthpiece uses a patented combination of warming heat and light technology to speed up the whitening process for safe, clinically proven, professional whitening results with no sensitivity.
LUMIA DENTAL is proud to be a certified GLO Science dental practice, offering our patients the very best same-day teeth whitening experience - with faster appointments, superior results, and minimal to no sensitivity.
GloPRO patented illuminating heat technology is the ONLY teeth whitening technology with a controlled illuminating heat mouthpiece for the fastest results and optimal patient comfort, avoiding dehydration or rebound that can cause prolonged teeth sensitivity.
GloPRO is a convenient and cost-effective teeth whitening system that delivers stunning results up to 12 shades whiter. GloPRO is best done with your regular check-up and cleaning and includes a take-home kit with the patented LED light and whitening solution for 5-8 at home treatments. No trays or gels, minimal to no sensitivity or time commitment and highly effective. GloPRO is hands down the best, regular whitening solutions around.
Most Effective - KöR Whitening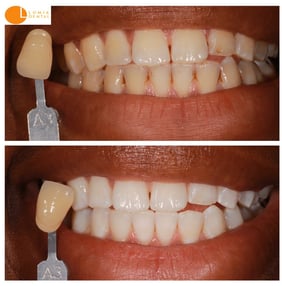 For tough cases or patients who are committed to a more extensive whitening treatment, Lumia Dental recommends KöR Whitening which works by restoring your teeth's youthful ability to absorb oxygen. The oxygen from the whitening gel is absorbed deeply into the tooth, dissolving and removing stain molecules.
KöR Whitening lightens teeth dramatically, up to 16 shades or more. Although everyone is different, with the proper KöR Whitening System, nearly all teeth will have stunning results. KöR even whitens tetracycline-stained teeth significantly, which was previously thought to be impossible!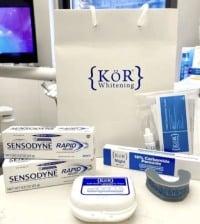 Whitening gels require more time and commitment and are known to potentially cause pain. We have found KöR Whitening to be the gentlest whitening gels available, however, while tooth sensitivity is temporary is typically correlated to intensity of the teeth whitening treatment, meaning, the more staining you want to remove the higher the likelihood of experiencing sensitivity. Your Lumia Dental team can help you decide if KöR Whitening is right for you.